Devastating Earthquake in Haiti
A 7.2 magnitude earthquake hit Haiti causing over 2,200 fatalities. IsraAID is distributing urgently needed relief items in some of Haiti's most remote communities. Your support is needed today.
DONATE
Who we are
IsraAID is an international non-governmental humanitarian aid organization based in Israel. Since we were founded in 2001, our teams have worked in emergency and long-term development settings in more than 50 countries around the world.
LEARN MORE
WHAT WE DO
IsraAID responds to emergencies and helps people affected by crisis re-build their lives, their communities, and their futures, together. From hurricanes to refugee crises to global pandemics, we mobilize quickly and collaborate with communities at the deepest level, staying for as long as it takes.
Emergency Response
Recovery & Preparedness
Refugees & Forced Migration
Learn more
"Our hope is to accompany communities as they recover — because in a place where it seems like you don't have control over your life, the little things make all the difference."
GLOBAL IMPACT
8 Million
People reached around the world during the COVID-19 pandemic, through media campaigns, relief distributions, remote support, and more.
55
Countries reached through emergency and long-term relief work since 2001.
92,250
People reached in South Sudan between January and September 2020.
Spotlight: Hurricane Maria
When Hurricane Maria hit Dominica in September 2017, Ms. Bibi and her husband Albert were forced to find shelter in a nearby church. The roof of their house was destroyed and most of their possessions lost. They spent weeks at the shelter, where Bibi helped cook for the community. IsraAID's team identified more than 100 vulnerable households – like Bibi and Albert – who were unable to rebuild their houses alone. Together with a group of community volunteers, they rebuilt Bibi and Albert's roof and enabled them to return home.
"At least I have my life," she said. "The rest doesn't really matter."
LATEST NEWS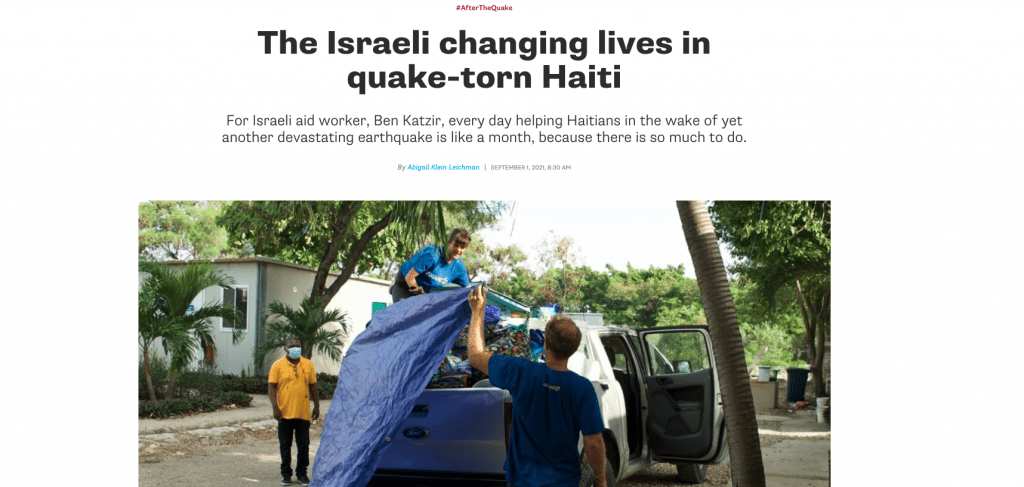 1 September, 2021
News Coverage
30 August, 2021
News Coverage
26 August, 2021
News Coverage