Four ways IsraAID makes technology work for communities
When we think of technology, we often think of the shiniest new inventions – artificial intelligence and electric cars, the stuff of science fiction. But technology includes many elements, from water filtration systems to organizing and communicating new information. A big part of integrating these technologies into humanitarian contexts is making sure that they are accessible to the communities we work, such as technological know-how, access to the internet, and cultural context.
My job as Innovation, Information & Impact Coordinator includes developing and implementing technologies that can function offline and off-grid and communicating how to use them to create impact. Using technology, we provide safe drinking water for rural communities, train mental health volunteers and staff, and help municipalities make better, data-driven decisions regarding their resources. Innovation comes in all different forms. Here are four examples of how we ensure that technology best serves the communities we work with.
Thinking sustainably
When integrating technology into humanitarian response, we work to find environmentally sound and sustainable solutions. So many of the emergencies we respond to are related to climate change's effects. Promoting climate resilience requires using technology responsibly, considering the ecological context, and ensuring that communities have the means and knowledge to maintain and run this technology on their own.
In the Wayuu indigenous community in Garciamana, La Guajira, Colombia, we provide safe drinking water with the EZ-Pack – a solar-powered water desalination and filtration system. The technology benefits a community of over 200 local people facing water scarcity, including elementary school students, and doesn't rely on external energy sources that could be expensive or polluting. Local community members were trained in system maintenance and will act as 'water guardians,' maintaining the systems long-term, and children learned why it's so important to conserve this critical resource.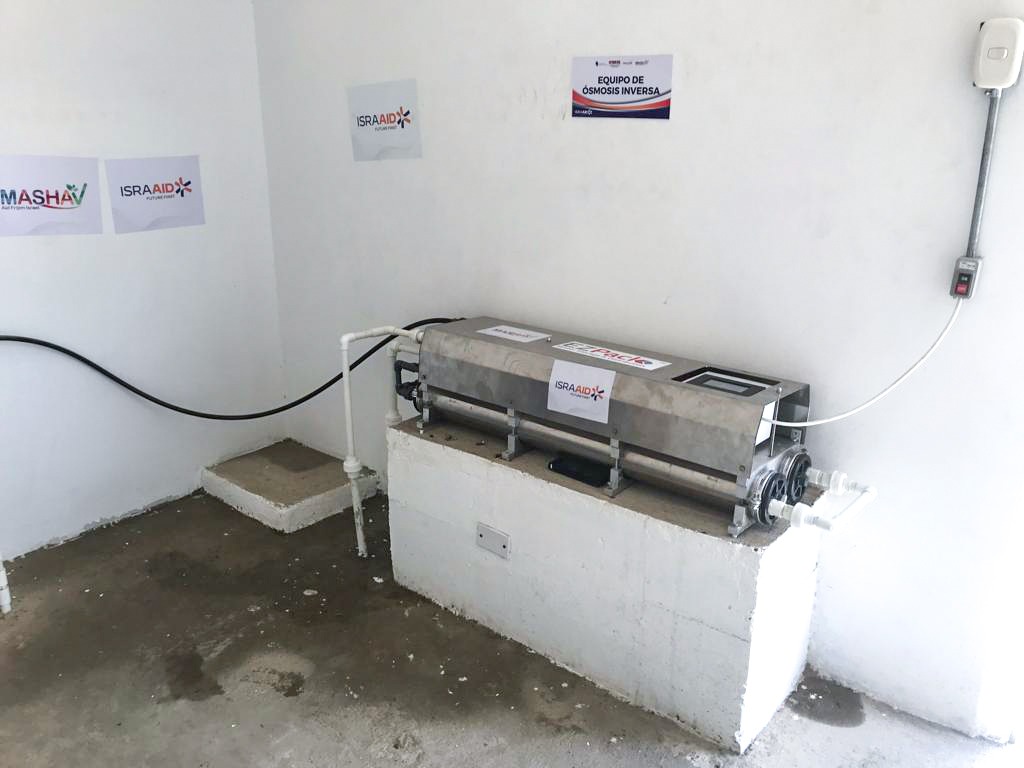 Making information available off the grid
Many of the communities we work with are without consistent access to internet connectivity. Whether this is because they are located in remote areas, lack infrastructure, or are dealing with the effects of a physical disaster, it's important to make sure that access to information isn't completely dependent on internet access.
One example of this is our Mental Health and Psychosocial Protection Course app. Offering information to mental health providers and community outreach workers on the basics of Psychological First Aid, self-care, and burnout prevention is key to ensuring that communities have the support they need to build resilience before, during, and after disasters. One place where we've seen this work is in our mission in Uganda, where the app is used to train community mobilizers and facilitators who work with refugee children.
A critical factor in ensuring this app would actually be helpful was making it accessible offline, as internet access in Palorinya Refugee Camp and many of our other missions isn't always reliable. Following a one-time download, all the information is ready and pre-loaded, ensuring people can access it wherever they are, whenever they need it. 
Speaking the right language
One of the most important aspects of introducing new technologies is explaining how they work. IsraAID is currently working in 17 countries, many of which have multiple dialects, multiple languages, or limited literacy.  Often, using clear icons and visual instructions without written words can overcome this challenge.
Digital literacy is also a big concern. In the Philippines, we brought Otterpack water filtration devices after Typhoon Odette in 2021. The system fits like a backpack, making it highly portable and easy to use in multiple locations. And yet, we found that small design choices made a huge impact on whether or not the communities would use the device. By simplifying the mechanical display panel from a meter to a green and red light, we see that community members may be more comfortable using the technology, making sure that more people can access safe drinking water.
This is a technique that we use in our different missions all over the world to ensure that everyone has access to technology, regardless of language or literacy.
Taking security into account
The Tulcea Humanitarian Logistics Hub in Romania has delivered thousands of tons of essential aid to some of the areas that were most affected by the ongoing war in Ukraine. Through our partners, we were able to deliver necessary items like food rations, warm clothes, and medical supplies and equipment to vulnerable communities near the front lines. 
But how do we keep track of all the movements without using GPS, which can give away the position of aid deliveries and put aid workers and communities at risk? Partnering with the Israeli company monday.com, we developed a system of tracking aid that relies on scanning QR codes without GPS. That way, we can be sure that aid reaches those most in need while still protecting aid workers, partners, and the communities we work with.
These days, technology is an inseparable part of our daily lives. Whether using Google Maps for directions, scrolling through our social media feeds, or using Chat GPT to respond to emails, we often take our access to technology for granted. Part of technological advancement and innovations is finding new ways to expand access to technology and seeing how small changes enormously impact entire communities. 
Want to learn more? Follow IsraAID on Facebook, Instagram, Linkedin, or Twitter to keep up with all our activities!